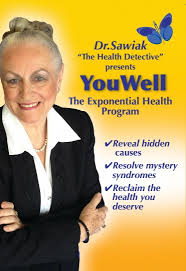 "YouWell-The Exponential Health Program"
by Dr. Oksana Sawiak.
We make choices every day, Do you know how your choices affect the health of your body, your mind, your longevity?
Dentistry and oral health is a vast area which affects our health but few of us know how and to what degree.
Dr Sawiak, with her experience as a biological dentist and vast knowledge of toxicology, integrative medicine and non-invasive healing modalities, gives you insight into what she calls "Mystery Syndromes" and helps you to uncover possible underlying factors in chronic illness.
This book will help you REVEAL hidden causes that rob you of health and vitality. RESOLVE the factors that are found and help you RECLAIM the health you deserve.
To purchase a copy of this amazing book, please contact Dr Sawiak at 905-279-6619 or by email at drsawiak@drsawiak.com
Cost: $19.99 Cdn $18.99 US
Or visit Amazon.ca to get a copy.
I enjoyed Dr. Sawiak's book and all the knowledge put into one book!
Amazon Customer on Aug. 18 2016 - 5 Stars